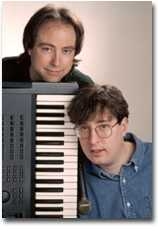 is a band formed in February '99, with over 300 songs recorded.
Steve Bujanow writes the lyrics and sings while Chris Theriault plays synths and guitar. Chris is also the technician — Chris mixes and records the band's music in his studio.
---
Click to listen to the single "Counteract the Blur" from our Greatest Hits, Vol. III:
---


Counteract the Blur
Why do I say?
That I must know?
The answers to the questions,
That you always pose?
Fever occurs,
When the brain turns over,
Why must I act?
When love works on its owner?!
Counteract the blur,
When life takes its turn,
Introversion will,
Have its own conversion.
©1999-2014 Steve Bujanow
---

The Neo Cortex Archive!
Surf our quirky, cool poetry... view the complete words to 349 songs.
---
Neo Cortex has released 15 great CDs:
• The Neo Demos
• The Lakeside Tracks
• The Mindful Collection
• Synapse
• Neuron
• Sentience
• Our Wild Brainchild
• Thought Process
• Creative Green Garage
• 391.5 MB Cerebro
• Grey Matter Matters
• Thinking Cap
• Singing in the Stream of Consciousness
• 14th Intellect
• Smart Art
We use the following equipment to create our music: Logic Pro 9, Mac Pro Quadcore, Vox Tone Lab, Omnisphere, Trilian Bass Module, Stylus RMX, Korg Micro Korg Synth, Alesis Micron Synth, Alesis SR-18 Drum Machine, 66 Fender Strat, Jackson DK2S Dinky Electric Guitar, Korg Karma, Roland Juno 106, Korg M1, Mac Pro Quad Core 2.66 GHZ, M Box 2, Mackie Mixers, Mackie HR 824, Adam A7 Studio Monitors, Shure Beta 58A Microphone.